Me 163 kits and accessories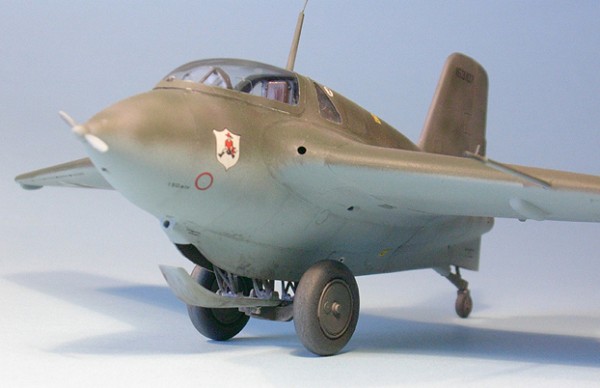 Roland Sachsenhofer's Hasegawa Me 163B
Roland Sachsenhofer from Linz in Austria sent a report on his Hasegawa Komet. Roland reports:
The general quality and fit of the parts of this Hasegawa model can be described as simple and very good at the same time. The age of the model reveals itself with the the raised panel lines. For me it represents no problem however. Detailing the cockpit appeared sufficiently to me, I only added Eduard seat belts. The only other change I made was the removal of the upper part of the antenna mast. This whip antenna is represented in the kit as an ugly solid 'stick', which would have completely destroyed the lines of the Me 163. I drilled an 0.3 mm opening in the mast, which accepted a piece copper wire as the whip antenna.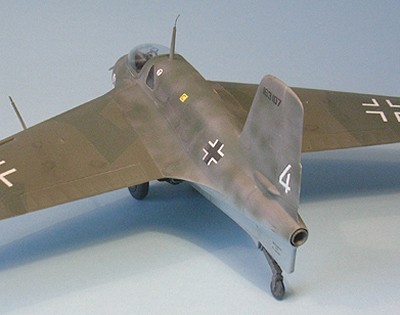 The camouflage of the Komet is a very interesting topic. It is discussed in literature and internet, with often conflicting opinions. My Me 163 shows a camouflage in RLM 65 on the lower surfaces and RLM 75 /RLM 83 op the top sides, with 'hard edge' masking on the wings. Weathering was done with water-colors, as I usually do. The application of the decals as well as the sealing was done in the traditional way, with several layers of gloss and matt Gunze clear paint.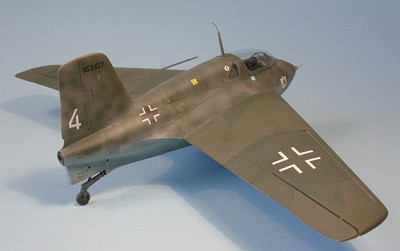 Roland's model can also be seen on Modellversium.
Return to Hasegawa 1/32 Me 163B page