Me 163 kits and accessories
Julian Abram reports: "It is clear that the designer of the kit has worked from original works drawings, as it is not only very accurate, but it also contains many internal details which would be impossible to reproduce in any other way. It really is a superb piece of reference material. It is so accurate at 1/32 that I am currently re-scaling it to 1/6 to build a radio controlled flying model.".
The scans below (courtesy of Julian Abram) show the magazine cover and one of eight (!) sheets with the many parts to build this paper model. Only one sheet is shown for copyright reasons.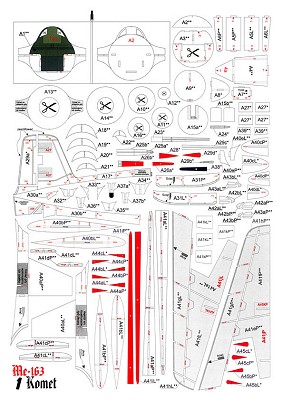 Return to Me 163 kits and accessories page