'Mule' deck tractors in 1/72 scale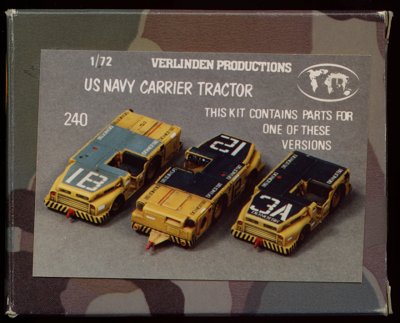 Designations
My limited understanding of the vehicle's designations is that the original yellow-painted Mules were designated MD-3, MD-3A and MD-3B, and that the improved (Service Life Extension Program, SLEP) white-painted Mules are designated A/S32A-31, A/S32A-31A and A/S32A-31B. The SLEPed version can be identified easily by the widened rear of the vehicle (some 6 inches) and a sloped rear edge (like a car 'spoiler'). The Verlinden, Fujimi and Maquettes Dauzie Mules are the original version, only DreamModel offers the later wider version.
Note that there was a short period where the 'old' version was painted white, because the Navy phased out the yellow paint that contained lead (or maybe cadmium?). Judging from the occurence of both versions in Verlinden's 'Lock-on No 14: USS Forrestal' from 1991 (possible the contents were photographed in 1990), the switch occured around that time.
All kits I've seen have single rear wheels. But I'm sure the real thing has double wheels. Possibly the 6 inch widening also has to do with the rear wheels, creating a wider track, or the use of wider tires.
Confusingly, the US Air Force also has an MD-3: "The MD-3 Generator Set is a portable unit designed to furnish AC and DC electrical power for the starting of aircraft, and for ground maintenance". It's definitely not a tractor, so the two can't be confused.
History
The Mules used to be known as MD-3s, but are now officially known as the A/S32A-31. I found a few Navy manuals with some information.
Quoting from 'Aviation Support Equipment Technician (ASE 3&2 AND ASM 3&2), Volume 1, Basics, 1981 Edition', page 6-5:
"MD-3 TOW TRACTOR - This tractor was designed for use aboard aircraft carriers and will handle any type of carrier-based aircraft. It can configured as an MD-3 (basic tractor - no gas turbine power unit), MD-3A (mounts a GTCP-100-54 gas turbine power unit), or MD-3B (mounts a GTC-85-72/73 power unit)."
Quoting from 'Aviation Support Equipment Technician (ASE 3&2 AND ASM 3&2), Volume 1, Basics, 1981 Edition', page 6-25:
"SB/TAU-2 FIREFIGHTING UNIT - The TAU-2 is a self-contained twin agent firefighting unit designed for shipboard use. The assembly is mounted on the rear of an MD-3 tow tractor for flight deck use or it is mounted on an Aero 21C bomb skid for hangar deck use. The TAU-2 consists of two tanks, an 80-gallon tank for premixed Aqueous Film Forming Foam (AFFF) Solution (commonly referred to as light water) and a 200-pound capacity tank for Potassium K Power (PKP) chemicals. The solutions, PKP and light water, are both propelled from the tanks through associated piping by a single 400-cubic foot capacity nitrogen cylinder. The nitrogen cylinder must have a charge of 1700 to 2400 psi at 70 degrees Fahrenheit for proper operation of the unit. The solutions are dispensed through a 100-foot non collapsible twin hose and twin pistol grip nozzles. The hoses are bound together and enclosed by a cotton cover."
Quoting from NAVAIR (Naval Air Systems Command) 19-40-44:
"The MD-3 Tow Tractor is a pneumatic tired, diesel powered tractor intended for towing all carrier based aircraft aboard aircraft carriers. The MD-3 tractor is powered by a 100 horsepower diesel engine and has a draw bar capacity of 8500 pounds at an approximate speed of 1 mph on a dry level concrete surface. The MD-3 includes a quick detachable unit with the capability of starting conventional and impingement type air-starting aircraft and providing AC and DC electrical power to aircraft while to towing. Hydraulic power steering is provided to permit maneuvering in confined areas. The tractors have a low silhouette to permit operation under wings of parked aircraft."
"The tractors originally came into service in the early 1950's and were manufactured by Frank Hough Corp. Around 1952, the Frank G. Hough Company was bought out by International Harvester which was later bought out by Tenneco Incorporated and merged with its then subsidiary, Case Corporation. The tractors originally procured in the 50's were SLEPed (Service Life Extension Program) in 1981 and reidentified as the A/S32A-31. This SLEP was essentially a re-engining of the unit (new engine and transmission), along with some brake components and a general overhaul (stripped all the way down and repainted)."
NAVAIR (Naval Air Systems Command) document 19-40-44s lists the following dimensions, without stating whether it's for the original design or the SLEPed version: 162" length, 65" width, 36" height, 11" bumper height, 4" bumper depth, 7.5" ground clearance.
Verlinden
In 2000 I obtained a Verlinden 1/72 resin scale model of the MD-3 'Mule' US Navy deck tractor (catalog number 240, later 2560) at an IPMS meeting. It had been on my wish list for a long time, but I never found one. Apart from some pinhole air bubbles I liked it a lot. The only thing I planned to improve were the wheels, since the tires lacked profile, which is a bit awkward for such a slippery working place. I planned to use the wheels of a Fujimi Mule, that reportedly had more detailed wheels, but otherwise would be inferior, I thought.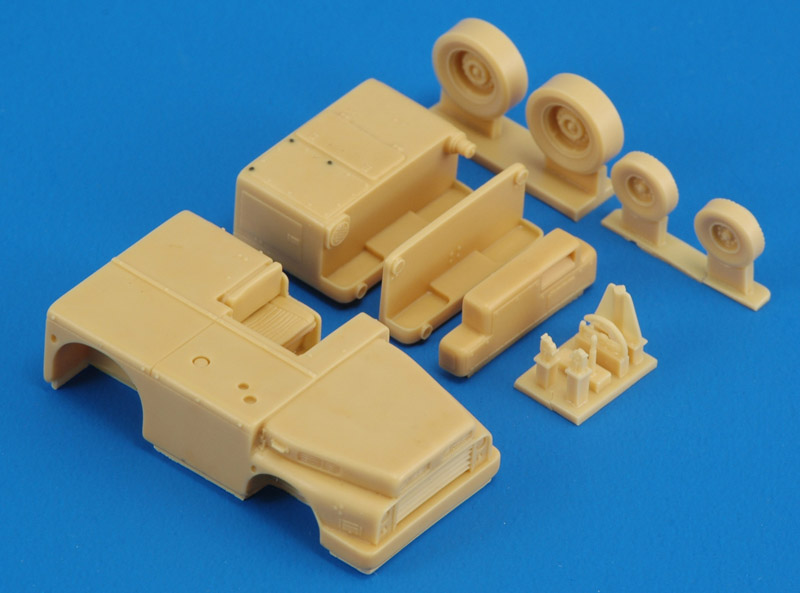 Verlinden also has a fire-fighting version, kit number 267 (later 2591). The package attached to the rear of the tractor is probably the SB/TAU-2 as described above. It appears that this kit only contains one version, but not having seen the kit, I'm not 100% sure.
Fujimi
Eventually I bought the Fujimi 'Deck crew set' (catalog number 35001), and this turned out to be quite a surprise. With regards to details, this injection moulded MD-3 was a near 100% copy of the Verlinden model! Of course Fujimi had to break up Verlinden's single-piece main casting into several smaller parts, but otherwise the differences were very, very small. The hood has a fold on the centerline (that I have seen in only one photo of the real thing, the rest had slightly bulged hoods), but otherwise it is identical, down to the tiniest details. I was quite amazed that it was possible for Fujimi to achieve the same detail level with injection moulding. Another lesson learned!
The Fujimi Mule can be built in three versions, the short version, the version with a 'Huffer' extension similar to Verlinden, and the fire-fighting version that is probably the SB/TAU-2 as described above. The first and second are also found in Verlinden #240, the last is similar to Verlinden #267.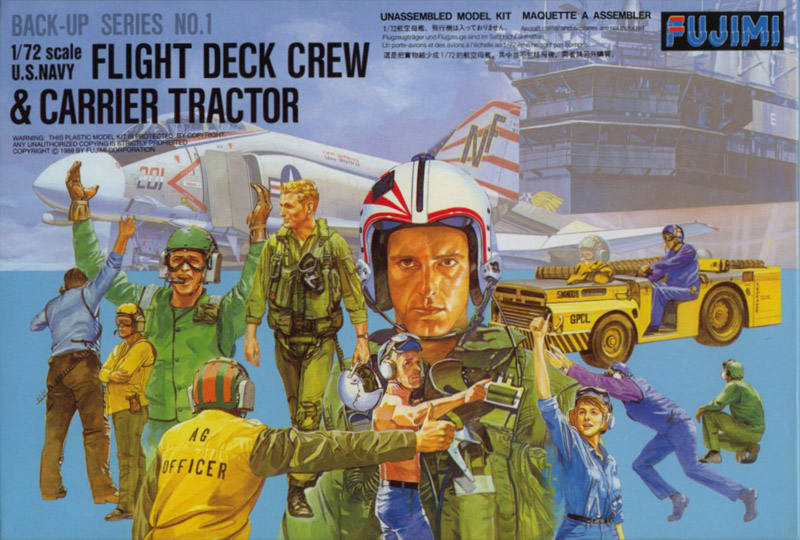 Since the Fujimi set is on the market for quite some time, it could explain why Verlinden possibly stopped production, and why I couldn't find a Verlinden Mule all those years. I haven't nailed down the exact vintage of both models, but the Verlinden Mule is probably from 1987 or earlier. It was produced until at least 1994, since it is listed in Verlinden catalog #13 1994-1995. I found the Fujimi set in a 1992 mail order catalog, but it could be older. In 2008 or 2009, the Mule tractor was included in a reissue of on Fujimi's VF-96 F-4J.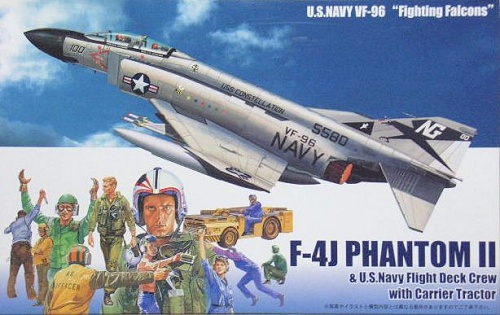 Testors
The Fujimi set was also issued by Testors in the USA, with catalog number 850, with photo box-art. Possibly it was also sold bagged, with a black and white header card based on the Fujimi box art.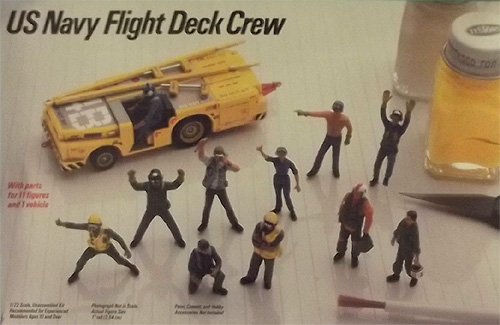 Maquettes Dauzie
In 2007 I bought a Maquettes Dauzie resin 1/72 scale US Navy tow tractor (catalog number 72 006) at the IPMS-NL Nationals. Compared to the Verlinden/Fujimi MD-3, it has a different unit attached to the rear side. Also included are parts to make the air starter's hose, in the shape of a piece of hose, and metal wire to wrap around it. The same tractor was also available without the rear unit, catalog number 72 007.
The length and width of the complete vehicle are around 15% less than the Verlinden/Fujimi Mule, which makes you wonder who used the correct (or best) data. I obtained some more MD models, and the dimensional errors in them are so obvious that my trust in MD's master builder has disappeared largely. Therefore I believe the Verlinden/Fujimi Mules are more accurate.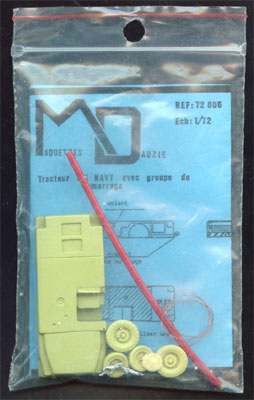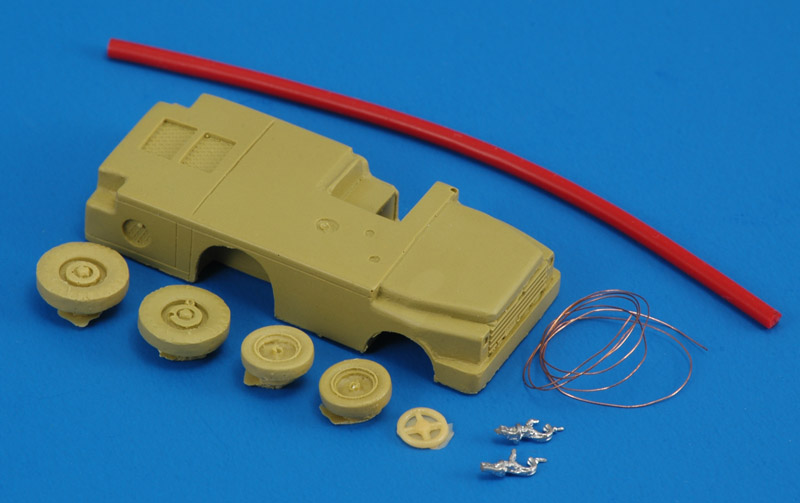 DreamModel
In 2008, DreamModel from China issued four resin Mule kits, with photo-etch details and decals. The versions are old & new short style, and old & new long style tractors. The new style tractors have increased rear track, and slightly widened fenders to match.
| | | | |
| --- | --- | --- | --- |
| | | | |
| 0201 (old & long) | 0202 (new & long) | 0203 (new & short) | 0204 (old & short) |
PhantomModels
In 2013 PhantomModels from Moscow issued a resin Mule kit, with photo-etch details and decals (catalog number 7002). It represents the updated version with increased rear track, and slightly widened fenders to match.
Hobby Master die-cast
Hobby Master released a diecast Mule in a blister packaging. It comes in two versions: the 'US Navy Tow Tractor' (catalog number HD2002B) featuring an MD-3A with two figures, and the 'US Navy Fire Tractor' (catalog number HD2003B) featuring an MD-3 with the fire fighting attachment, in white and red, with two figures. They two versions are also sold together as 'Modern aircraft carrier diorama' (catalog number HD1002).
Kit comparison
I haven't assembled the Verlinden and Fujimi kits yet, but of these two the Fujimi kit seems to hold the edge. Some advantages:
the Fujimi kit allows the construction of all versions of the Verlinden kits

the Fujimi tires are nicer

a towbar and wheel chocks are included

an air hose is included, whereas Verlinden only gives instructions how to make the hose from scratch
Colors
Somewhere during the early nineties, the color of US Navy deck vehicles switched from yellow to white. Alex Suvorov's excellent webpage U.S. Navy Flight Deck Tractor Models claims the colors were FS 33538 Orange Yellow and FS 17875 Insignia White. Humbrol 197 and Revell 310 (both RAL 1028 matches) come quite close to the former.
Links
Return to models page