Colors and markings
Colors
The colors of the Firefly are rather unclear. The following color and schemes were identified:
Many black and white photos in 'Lightning Bugs and other reconnaissance drones' suggest an overall black scheme. On page 128 it is reported that "unlike most other operational drones, which were black, the low-level NP model flew with a camouflaged paint scheme". The USAF Museum's AQM-34N and the Pima AQM-34Q appear to be the only remaining black examples.

Definitely confirmed to be black were the 147SRE aka AQM-34K night recce Firebees. 'Lightning Bugs' page 142 quotes "This visual night reference [reflective tape] was necessary as no detail whatever of an absolutely black bird can be seen against an absolutely black sky".

One important remark about the black scheme. Black and white photos of the armed BGM-34A's also suggest they were black. It is hard to believe, but they are orange-red in reality! Apparently this color shows as black in b&w photos. In some cases both b&w and color versions are known, and this shows it without a doubt. It isn't likely that the USAF flew orange-red AQM-34's over Vietnam, but possibly some test birds were painted in this color.

Another possible example of the orange-red vs black problem is shown in chapter 6 of 'Lightning Bugs'. I say possible, since the analysis depends on 100% accurate photo captions. The second Model 147A (147A-2) was the first Model 147 with a rear fuselage plug and an enlarged nose section. The photo on page 28 suggests this is 147A-2, and it looks very black. On page 30 147A-2 is seen again, after its premature parachute recovery during a test flight. It doesn't look black at all here, and you can see the black 'U.S. AIR FORCE' marking clearly. So, was it orange-red too? Probably. Actually, I don't think it is a bad idea when you overfly four US states with your unmanned bird!

BQM-34A target drones are painted in an orange-red color. The USAF and USN use (used) different colors:

USAF Tech Order 1-1-4 from 1964, section 3-62, specifies 'Color No 633' for target drones. This color is part of the ANA166e color range that was used before FS595. Dave Klaus, in 'The IPMS color guide' page 115, states that Color No 633 is the equivalent of FS 28913, although this is not formaly identified in ANA166e or FS595

USAF Tech Orders 1-1-4 from 1982 to 1994, section 4-17, specifies FS 12197 for target drones. This TO is reproduced in Dana Bell's USAF colors and markings in the 1990's)

Navy manual MIL-STD 2161A from 1993 states:

section 5.1.4 specifies FS 12197 (international orange) and FS 17925 (insignia white) for drones

section 5.1.5 specifies FS 28915 (fluorescent orange-yellow) for target aircraft

This makes it rather unclear what color a 'target drone' is to be painted in. The manual does not have a drawing with colors and markings for the BQM-34, but the one for the BQM-74C (figure C-50 on page 191) shows FS 12197 as the main color. There are many photos showing Navy BQM-34 in FS 28915 fluorescent orange-yellow.

Navy manual MIL-STD 2161C from 2014 changed section 5.1.4: instead of FS 12197 it is now FS 22190. The colors are very close, with the latter maybe redder and brighter.

This Don Color page (archived by the Wayback Machine) about the '1959 USN Firebee paint scheme' reports ANA 633 Fluorecent Red Orange

Modeler/writer Colin Sponner writes in Scale Models International, December 1989 issue, that the Navy used Insignia Red (FS 11136) for drones from 1946 to 1959, and Fluorescent Yellow-Orange (FS 28915) after that

Testors/Italeri has FS 28913 in its Model Master II range (#2041). Humbrol has no match, and neither does Revell-Germany.

'Lightning Bugs' also shows quite a few overall light grey examples, as do Larry Engesath's photos.

Larry Engesath's photos from 1973 also show a two-color grey scheme, with FS 36622 on the lower side and possibly US Navy gull gray on the top side

Some of the camo pattern of an NP model can be seen on page 123 of 'Lightning Bugs'. Colors are not known.

On page 55 of 'Lightning Bugs', a white and light grey example appears to be visible. The top color appears to be identical to the pylon color (FS 36622).
The long tailcone (housing two parachutes) appears to have been black on almost all Fireflies. On later models, the forward part of the cone is sometimes in the camouflage color too. The 'radar blankets' (aka RAM) reported in the first chapters of 'Lightning Bugs' appear to be white.
Markings
Some snippets about markings:
Some had (parts of) their serial numbers painted on. On some the last four digits were painted in various locations.

Tail codes: 'DM' for the Davis-Monthan based TAC units that operated AQM-34's. 'HI' is also known (AQM-34V), possibly used by 6514th Test Squadron while bases at Hill AFB.

No national markings appear to have been carried.

No 'U.S. AIR FORCE' markings appear to have been carried by AQM-34's. Exceptions are test birds flown over and around the USA.

Stencils.

Mission markings, apparently on both sides.

Name given after 5 completed missions.

Turbine warning stripe on nacelle.

'Lightning Bugs' page page 65 reports that in 1964, 147B's were flown with Taiwanese roundels.
Drew Hill found the painting instructions for the BQM-34 target drone in Air Force manual TO 1-1-4.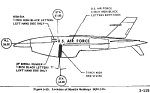 The 1959 US Navy Firebee paint scheme can be found on the Don Color site.
Return to AQM-34 home page