Gene Kincaid photos
Gene Kincaid served in 4080SRW and 100SRW (SAC) and 22TDS / 432TDG (TAC) and processed film and printed photos taken by the Firebees.
Gene photographed AQM-34L with serial number 70-1071 ('AF 70 071' painted on the vertical tail) on the pylon of a DC-130. It has short-span wings, and a typical 'camouflaged' radome that doesn't match the rest of the color scheme.
Gene also photographed AQM-34M with serial number 70-1158, the same Firebee that Larry Engesath photographed earlier at a Beale Open House. Gene photographed it at the occasion of its last flight. It was autographed by most of the crew, the wing commander Col. Witzel and the deputy commander. Gene is seen from the rear in the photo.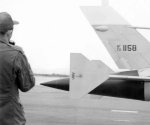 The fourth Firebee photo appears to show AQM-34L(TV) 69-6059. The full number on the tail is not readable, but '6059' on the nose suggests it is part of the 69-5933 to 6187 production block. If the serial is correct, it is confirmed as an L(TV) by Tech Data by Craig Kaston. As Gene wrote, this is a well-used Firebee, I count 22 mission marking on the nose, and perhaps there are more on the (usual) left side? Unfortunately, the nickname of this bird is not readable, largely due to the portrait photo paper it was printed on. The radome of this Firebee is very interesting: it (partly) shows the special radome of the L(TV) version. The extended radome contained a video camera looking through a moving mirror system with two modes. In 'Navigation' mode it would give forward view. In 'Recce' mode, it would give left oblique, down, and right oblique views in quick succession. The 'Recce' signal was transmitted by downlink in real time and recorded for analysis.
| | |
| --- | --- |
| | |
See also Gene's photos of the Pima AQM-34K while it was on display at Davis-Monthan AFB.
Return to AQM-34 home page