Me 163B flight simulation
The Me 163 is of course a very interesting aircraft to fly in a flight simulator. Software like Combat Flight Simulator (CFS for short) and Flight Simulator 98 allow one to add aircraft types, and inventive users have made all kinds of add-ons to fly realistic Komet missions. The sims are listed alphabetically.

MicroProse 'B-17 Flying Fortress: The Mighty 8th'
Ilari Kattilakoski reports that MicroProse B-17 Flying Fortress: The Mighty 8th from 2000 is another WWII flight simulator that includes the Me 163B. It's a sequel to 'MicroProse B-17 Flying Fortress' from 1992 and focuses on the B-17 Flying Fortress, but you can also fly the escort fighters P-39, P-47 and P-51, or German adversaries Fw 190, Bf 109, Me 262 and Me 163.
Microsoft 'Combat Flight Simulator'
Hugh Shoults sent me the following screen shots of a Komet in CFS programmed by Australian Mike Hill. Jody O'Brian added a new camouflage ('retexturing'), based on that of 191907 of the Australian War Memorial. The second picture shows the instrument panel that Hugh modeled, including the thick piece of armor glass protecting the pilot. The other pictures show Hugh chasing and hitting a B-24. Hugh and other CFS Komet pilots are working on recreating some Komet missions, and also added the appropriate scenery for these flights.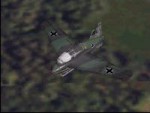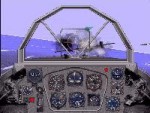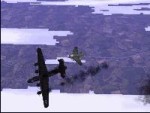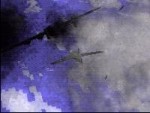 Hugh is also working on a Me 163A model, in order to be able to simulate the complete training program of a Me 163 pilot. The picture below shows he's got the shape right.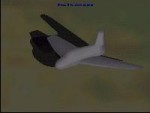 A Komet for Combat Flight Simulator 2 can be downloaded from the CFS2 Online site.
A Komet for Combat Flight Simulator 3 can be downloaded from the Tibor Stilz website, here's a screenshot: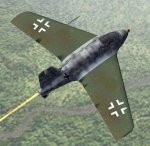 Microprose 'European Air War'
European Air War (EAW for short) is a PC flight simulation released by Microprose in 1998. Avi Solomon reports that the game still has a vibrant community of fans that have developed a variety of addons that have enhanced the game, which can be found here. News about an Me 163B for EAW by Jimmy Olsan can be found on Jimmy Olsan's page and on this EAW forum page. A 'Secret Weapons of the Luftwaffe' add-on was developed for EAW which also contains a Komet simulation.

Microsoft 'Flight Simulator X' (FSX)
It's a non-combat flight simulator, but it allows some kind of shooting action. A Komet for Flight Simulator X can be bought from the Flight Replicas website.

Maddox Games 'Ilyushin 2 - Forgotten Battles'
Jeroen Wedda reported early 2003 that 'Forgotten Battles' will be the follow-up of the popular 'Il2 Sturmovik' flight sim. Furthermore, the Me 163B Komet will be made flyable in the first free add-on to Forgotten Battles. Just after the release he made the following screen shots: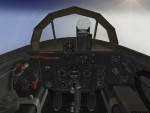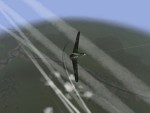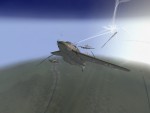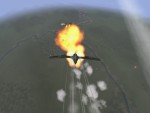 Peter Nitsch has an update: "Il-2 Sturmovik was designed and launched by a Russian production team called Maddox around 2000. Time and arena is the Eastern Front. Around 2002 an add-on was produced by Maddox (now owned by Ubisoft), which added several Allied and Axis aircraft with arenas, for example Normandie, Ardennes, Hungary and Gulf of Finland. Its name was Forgotten Battles. A few months later Forgotten Battles was sold as a stand-alone game, down-compatible with Il-2 Sturmovik. After severals updates (patches) with new aircraft and arenas, Ubisoft launched an add-on called Ace Expansion Pack in the beginning of 2004. Only with the Ace Expansion Pack you can fly the Me 163B. But version 1.0 is buggy: standing on the runway, you aren't able to start the engine! So you have to install the two patches for this expansion pack to get an absolutely satisfying Me 163B.". Peter sent some screen shots that show the graphics quality, details and functionality. The sim's minimum requirements are 1400 MHz, 512 MB RAM and a 64MB graphics card running with DirectX9.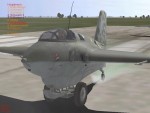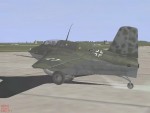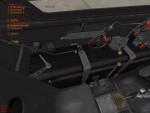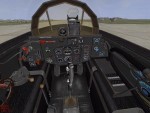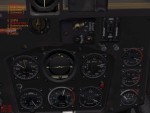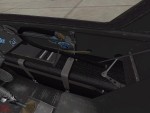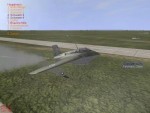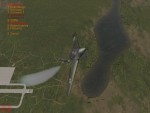 Marck Szelest also sent some screen shots showing the fantastic detail: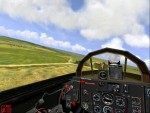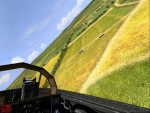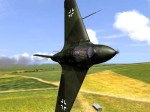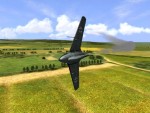 Waldemar Garcia sent screen shots of a typical Komet mission: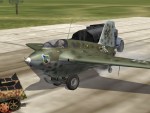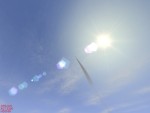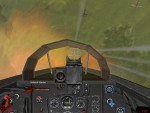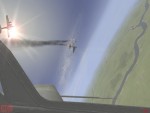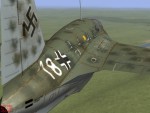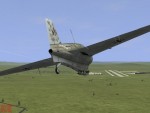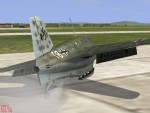 A YouTube video featuring the Komet in Il 2 - Forgotten Battles:
Komet Fighter
Tibor Stilz (Czech Republic) is working a free game called 'Komet Fighter'. It is based on his old unreleased Microsoft 'Combat Flight Simulator' add-on (see above). Pictures, a downloadable demo and some video footage can be found on Tibor's web page.
A few YouTube films showing this game and its construction:
Psygnosis 'Nations'
Alex Hakkenberg van Gaasbeek wrote the following about the flight sim 'Nations', which came out in 1999:
"In my experience a great sim, one of the better ones. The graphics are just terrific, as can be seen below. Psygnosis, the creators, have made a great effort to get it as much historically accurate as possible. It has three career options, you can choose between Germany, Britain, and USA. The German career exists of fourteen missions, and you will fly Bf 109E, FW 190A, Bf 109G, Me 163B, Me 262 and FW 190D. The British career also exist of fourteen missions, in this career you will fly Hurricane, Spitfire Mk I, Typhoon, Mosquito and Spitfire Mk 14. In the US career you will fly in fourteen missions the P-40, P-47, P-39 and P-51. I needed two months to fully play the careers. It took on the average around thirty minutes to complete one mission, some even one hour.
Also included is an option which allows you to take any aircraft and go one to one in a breath-taking dogfight with any aircraft you want (even one of your side). You can use it to check your skills, or compare aircraft qualities. In my experience the P-39, P-47 and P-51 are terrible, but the FW 190, Spit and Hurricane are doing extremely well. In some flight sims you push one of the buttons and your aircraft is hanging upside down. With Nations this is totally the opposite, it flies like you are really flying. All aircraft have different flight characteristics. I can describe some. Mustang: flies worse than almost any aircraft. Won the war by quantity. Hurricane: excellent flyer, only a little slow. Spitfire: without doubt the best fighter of the war, together with the Fw 190D. Fw 190: a great fighter.
Overall I would rate this a great game and with outstanding graphics. And of course it's fun!"
Shown below are seven screen shots taken from a Komet mission.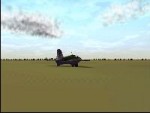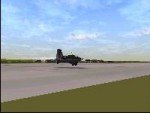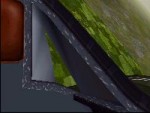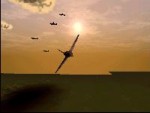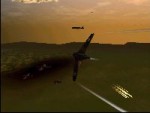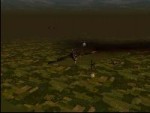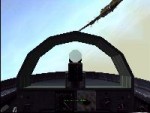 Lucasfilm Games 'Secret Weapons of the Luftwaffe'
Kevin Blacktop reports: "This PC game was introduced in 1992 by George Lucas of Star Wars fame. It features a Komet and in addition to practice missions allows you to reproduce some actual Komet missions. The flight sim is very good for its time and also includes historical information."

LucasArts 'Secret Weapons Over Normandy'
Akurei Nagisa reports: "I believe 'Secret Weapons Over Normandy' could be a successor to 'Secret Weapons of the Lufwaffe'. The Komet shows up several places in the game. In a lot of missions, the Komet is a German enemy; and a lethal one at that: the Me 163 is faster than the in-game Me 262, more maneuverable, and harder to spot due to its small size! Upon finishing the game, you're able to play as the Komet in 'Instant Action' mode. It's not as satisfying as it would be to do the missions with control of such a fine aircraft, but the Me 163 is still a lot of fun to fly, and does well against even the most skilled opponents! Interestingly, all mission Me 163s are colored in Späte's bright tomato red, and this is a color option for 'Instant Action' as well. Also, the Komet reaches speeds in-game of over 700 miles per hour.."

Crosswind Simulations 'Stormbird'
Brent Ward, owner of Crosswind Simulations reported he is working on a flight simulator based on the Me 262 and Me 163. In 2003, it appears that development has stopped and the company ceased to exist.

YS-Flight
Trevor Monkman reported in late 2004 that the free-ware flight sim YS-Flight has a highly detailed and accurate Komet available for downloading. YS-Flight lets you create your own air combat missions. This means you could put a team of Komets up against everything from the Fokker Triplane to Russian Migs. YS-Flight has free multiplayer as well.

Laminar Research 'X-Plane'
Otha Vaughan reported that X-Plane version 5.40 now includes the Me 163 and Me 262 aircraft, designed by J. Devine. The aircraft shown below was developed by J. Devine; Otha repainted it to look like Späte's red Me 163. The screen image capture shows the Me 163 ready for take-off.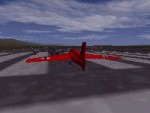 Return to Me 163B page