Mr Kurz' flying glider replica
Mr. Josef Kurz from Germany has built his own glider replica of the Me 163B, and is currently flying it! In 1944-1945 Josef Kurz was in training for Me 163B service, but the end of the war prevented him from flying the real thing. What better to do than build your own one, then? Construction was started in 1994, and first flight was made at 18 June 1996. It is flown from the airfield at Ziegenhain. Flying characteristics are extraordinary according to the builder. Mr. Kurz is planning to put a 100 hp engine in his replica, in order to have self-starting capability.
The shape of the original is well captured in this replica. The trouble-prone skid appears to be replaced by a single wheel, with a white skid painted on. The tail wheel is completely faired in, which is different from the original. The rear-view windows are omitted. The color scheme is possibly an attempt to make it look like Me 163B V41, that was painted all red for the first combat mission in May 1944. All in all a remarkable piece of work, and it must be a huge thrill to see this glider whizzing by at speed!
This page about Mr. Kurz' replica has been one of the most popular pages of this web site. Apparently, many people from all over the world are also thinking about building a flying Komet replica. I must admit that I too am intrigued. If you are serious about designing and building a replica, you could consider to join the Komet discussion group (a mailing list), which has some members thinking along the same lines.
Interview
I met Mr Kurz in May 2000 in the Oldtimer Segelflug Club hangar at the Wasserkuppe, where we was working on some aircraft with other OSC people. We had an interesting conversation for about half an hour. We spoke in German; he doesn't speak English, but French and Latin (!) were the other options.
Mr Kurz (Josef, or 'Sepp') told he has built 14 aircraft since 1982, including the following: Udet Flamingo, Habicht, Klemm 25, Reihe, Siebel 202 Hummel, Riesele (3) and SG 38. I think most of these were a group (OSC) effort. My impression was that he built the Komet basically himself, since the project was possibly a bit touchy for the OSC, it being a replica of a fighter aircraft instead of a harmless old glider. Usually the Komet could be found at the Wasserkuppe in the OSC hangar. Unfortunately it was at another airfield near Kassel for three weeks, so I did not see the actual aircraft.
Mr Kurz used a microfilm set of 2500 drawings, which he printed on A3 size (appr. double letter size for Americans). From this set of drawings Mr Kurz developped his own drawings. He immediately added that these were not really suitable for other builders, since they lacked many notes and details. Especially the fuselage was constructed completely different than the original (wood replaced metal). The external shape is similar however. One example were the fuselage frames. The real one has circular frames, covered with skins, to which fairings are added on the top and bottom and sides (wing root fairings). Mr Kurz built frames incorporating these fairings. The new structure was designed and stressed by people of the Oskar Ursinus group (something similar to the American EAA I believe). The wing section was Göttingen 765, just like the original. Empty weight is 285 kg, maximum weight around 400 kg. Earlier that day we had visited the Schleicher factory. One of their chief designers, Mr Waibel, told me he had calculated the neutral point for the Komet replica (it was his only involvement). Later a wartime document was found that showed a value really close to the newly calculated. This suggests they had pretty good data to work from.
Mr Kurz reported that the flying characteristics are excellent. This was also confirmed by another pilot present who had recently flown the aircraft. Mr Kurz joked that this pilot did not want to leave the aircraft after the flight. Stall is extremely gentle, without any rolling. Controls are very well harmonised. Although maximum speed for gliders is 250 km/h in Germany, Mr Kurz said it could do a lot more. [note: possibly I did not understand this correctly. There is no 250 km/h speed limit for gliders in Germany] He guessed L/D around 25 (compared to 17 of the original), which sounds rather high to me. Flaps are not installed. An engine is no longer planned. A pusher installation was the only option, but the small prop would have produced too much noise. The color scheme was indeed that of Späte's red V41. Mr Kurz did not want to paint it in camouflage colors.
Mr Kurz briefly told about his wartime experiences: he was selected for the Komet, did glider training on the Kranich (I think) and Habicht, up to the 6 meter Stummelhabicht, but then the war was over. The Stummelhabicht was very special, because the only thing to do after being released from the towplane was to get it down on the runway. Usually you were on the ground before the tow plane!
Sold to EADS - 2000
Mr. Kurz' replica was sold to EADS (European Aeronautic Defence and Space Company) in 2000 in a non-airworthy condition. It was earlier reported it was sold to the Messerschmitt Stiftung, that owns several aircraft related to the history of Messerschmitt, such as a Bf 108, a Bf 109G-6 (D-FMBB), and a Hispano Aviation HA 200D Saeta. Perhaps there is a relation between EADS and the Messerschmitt Stiftung. The aircraft was registered as D-1634 instead of D-ESJK previously. The Komet replica is located at the EADS museum hangar at Ingolstadt-Manching in South Germany.
Robert Obermeier-Hartmann contacted EADS in 2002, because of his interest in the flight performance of the replica. His impression from the flight manual was that the performance is not really exciting, and this was more or less confirmed by EADS. There were ideas to strenghten the structure, and re-certify it for at least basic aerobatics. A budget was not yet found at that point. EADS performed an extensive overhaul and a lot of modifications from 2004 to 2006. The aircraft is now quite a different one, and it is in the process of receiving its Permit to Fly. Two visible differences are that the triangular rear view windows and Morane antenna have been added. It appears the permit was obtained: at the 8 July 2006 EADS family day at Ingolstadt-Manching, it was towed into the air by a Do 27 and then made a free flight. Pilot was reported to be captain Philipp. It is currently painted as PK+QL with D-1634 is small lettering on the vertical tail and in large lettering under the wing.
The Kurz Komet was exhibited at the Musée de l'air et de l'espace at Paris-Le Bourget in 2001. Massimo Rickler found the museum's agenda, which reports that the exposition opened on 26 October 2001, and is called 'Exposition Willy Messerschmitt, Ingénieur et pionnier 1898-1977'. The agenda reports that the Museum organises the display with support of EADS. The display consists of two aircraft "that particularly illustrate the carreer of this great engineer, namely a Me 109G and a Me 163". Quite an error actually: the Me 163 is not the brainchild of Willy Messerschmitt, but of Alexander Lippisch and his team, and it can be said that the Me 163 was developped despite Willy Messerschmitt's opposition. The display also includes a Daimler-Benz DB 603E as mounted on the Me 410, a Junkers JUMO 004 as fitted to the Me 262, aircraft models, and German, English and French pilot flight gear. The Musée de l'air web site showed a nice overview photo, shown below. This photo probably shows the EADS hangar housing the complete collection of Messerschmitt aircraft. It shows three Bf 109's, two Bf 108's, a HA 200 Saeta, and Mr Kurz' replica Me 163B. The new registration D-1634 is clearly visible, and some details of the wing's internal structure are visible too.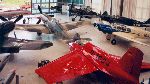 Photos
The first two pictures were scanned from the Dutch glider magazine 'Thermiek' (issue 1996-4).
This photo comes from Aircraft Illustrated, July 1998.
The following photos were kindly provided by Bert Hartmann.
Morton Haave supplied this photo:
Christoph Westhaus sent this very atmospheric photo he made during the 'Hahnweide Flugtag':
Henning Tikwe sent a photo that was made at Eisenach in 1997. The aircraft's first flight was made here, and this photo shows the aircraft being prepared for that flight.
More pictures can be found on the Adam Reiss' Photocollection 'Classic Wings', on Toni Bäuerle's Flying Wing page and on Airliners.net.
Videos
The Kurz Komet was flown at the La Ferté Alais 2009 air show where this beautiful video was shot.
Construction photo report
Frank Deeth from Australia bought Mr Kurz' drawings of his replica. He is now working on the details of the drawings to build his own replica. Frank kindly supplied scans of the build photos originally taken by Mr Kurz which were included with the drawings.
Components manufacturing

Fuselage frames assembly

Fuselage skinning

Cockpit controls

Tow cable attachment

Wing construction

End result
Return to Me 163B page