Me 163 kits and accessories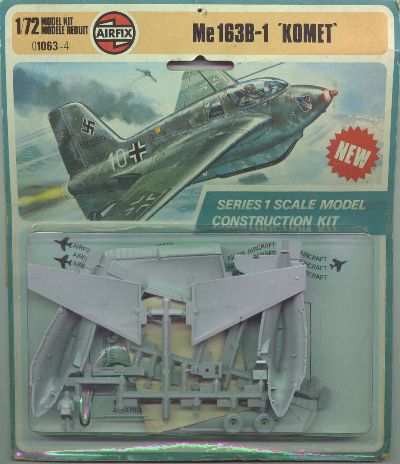 Scan provided by Shamus Reddin
The Airfix kit came out in 1977, just like the Heller kit. Its quality is typical Airfix, raised panel lines, quite a few rivets, and few parts. It is some 2-3 millimeters shorter than the Heller kit, which is quite noticable for such a small kit. A nasty problem of the kit is that the armoured windscreen is moulded integrally with the canopy (see the 1984 box-art). Replacing both is about the only option to solve this problem. The model was sold in at least two different boxes plus a blister, as shown on this page. After the excellent Academy kit came out in 2000, it is only worth buying if you're a model collector.
The photo below of an Airfix Komet model was sent by Marius van Aardt from South Africa. Quite a convincing diorama shot! More photo of this model are shown here.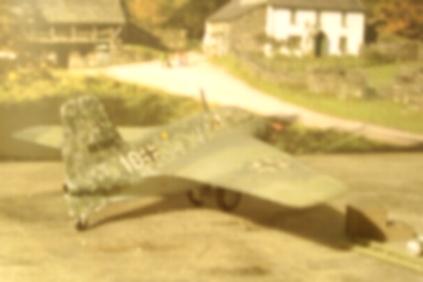 A photo of a built-up Airfix Komet can be found on Skitz Fijan's site hosted by Pedro Freitas. Note that White 10 is a Heller model though.
A catalog picture of what appears to be the original artwork.
Picture of the boxed issue of the kit. Note several differences with the picture above: the smoke column rising from the ground is missing, and the swastika has been deleted. Photo found on Ebay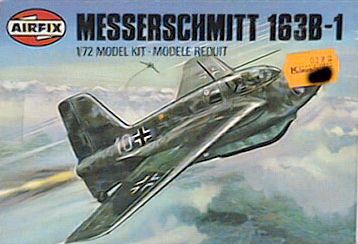 Box-art of the 1984 issue.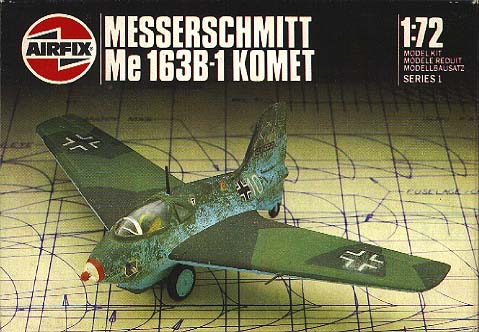 Return to Me 163 kits and accessories page