Me 163 kits and accessories
A picture of the STARR Miniatures 1/144 Me 163B with its Scheuchschlepper. A kit review of this model is listed on Paul Gold's 1/144 model page.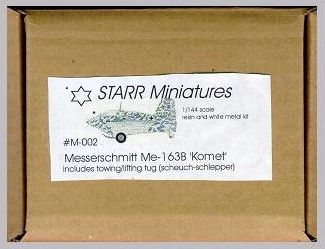 A Scale Aviation Modeller review had the following to tell about the kit. It has 16 resin, 3 metal and 2 vacuumformed (canopy) parts, all to be had for 6 pounds. The resin castings are fairly rough with no surface detail except on the wings and tail, lots of flash and large casting plugs. The metal parts are very rough. Instructions are printed on three A4 sheets, and are extensive. The parts go together with minimal filler. The decal sheet gives two options: the famous all-red V41 of EK16, and 'White 10' of 2/JG400. No colour recommendations are given though. On the review sample decal sheet the white parts weren't printed. This means handpainting the crosses and the 'White 10' code. Swastikas and squadron badges are not supplied. Despite these problems, their conclusion was that it is a nice kit for a reasonable price.
Return to Me 163 kits and accessories page