Me 163 kits and accessories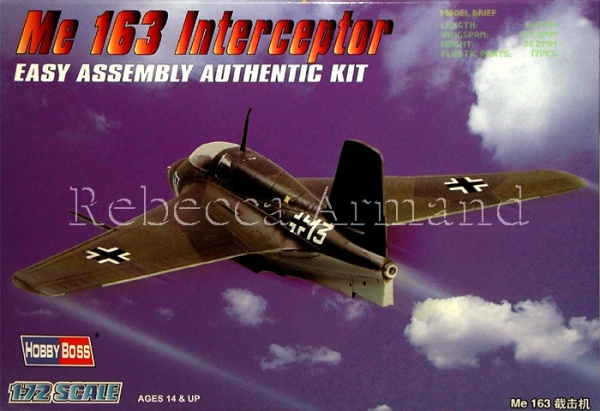 All photos by Rebecca Armand of Rebecca's Workshop, used with permission

In the box review

In 2007, Hobby Boss from China started with a series of 1/72 models that focussed on easy building, by integrating large parts and reducing the parts count. The Komet was released in September 2007, and it was approximately the 27th model in a series of 45 models. Overall, the parts suggest that the Academy model was used as a basis. Dimensions and detailing are nearly identical.
The model is packaged in an unusual way: all parts are presented in a vacformed tray. The kit's parts breakdown is rather unusual. The wings are solid and integral with the upper fuselage. To complete the basic fuselage, you add the lower fuselage, nose cone and vertical tail.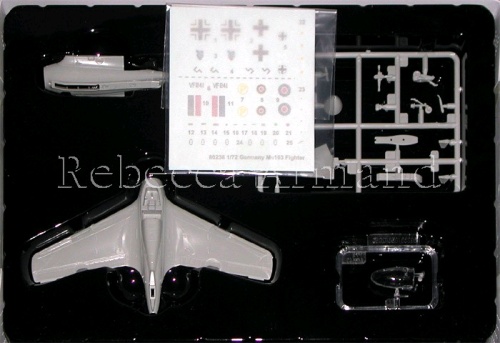 The decals options consist of the usual but still mysterious 'White 13' (the only photographic proof I know is in the background of this 'White 14' photo), and rather unusual, the RAF test Komet VF 241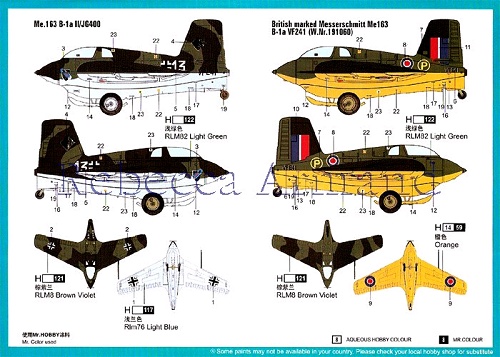 The weak points of the model, compared to the benchmark Academy model, are the very basic cockpit and the wings. The wings are slightly curved in front view (possibly some kind of shrink problem, because they are very thick mouldings), they have a dihedral that should be absent, and the leading edges are blunt and thick. Good points are the wheels, that are more accurate than Academy's wheels, and the interesting RAF decal option.
Overall, this model is no improvement over the Academy model. It is probably aimed at young builders, or modelers who enjoy painting more than building. Detail-oriented modelers will have more fun with the Academy model.
Reviews
Finished models
Return to Me 163 kits and accessories page