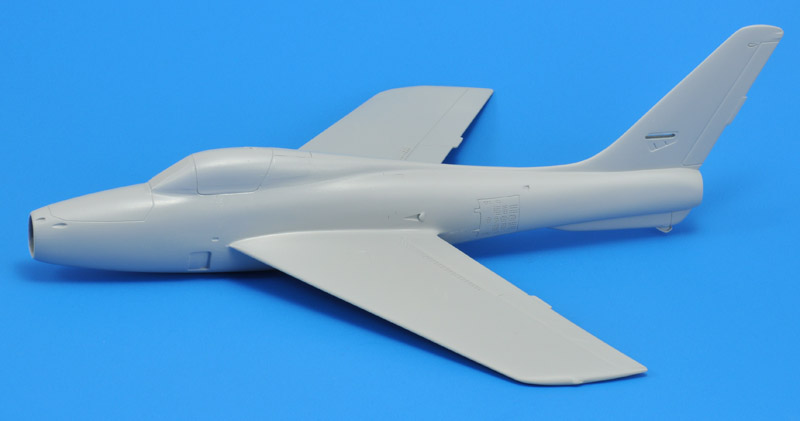 Time for a grey base coat, to check the build quality. I tried something new to remove the sanding dust from the many tiny holes of the speed brakes and spoilers: the model was dunked in an ultrasonic cleaner. That worked well, I had a spotless model to paint.

As a 1/72 scale builder, I was amazed by the paint quantity required to cover a 1/48 model plus four pylons: I used 6 ml of Humbrol enamel. I must admit I applied a good coat, to have some thickness to sand small defects.

The Humbrol 'Color System' booklet says 1 ml on average covers 190 square centimeters with a layer thickness of 0.06 mm. I roughly calculate 450 square centimeters for the F-84F, plus 50 square centimeters for the pylons, giving a total of 500 square centimeters. That means 2.6 ml should have covered the model, but this excludes the paint lost as overspray. Assuming out of the blue that 30% is lost, I should have used 3.7 ml. The actual 6 ml therefore should give me a paint layer thickness of 0.1 mm, which sounds about right for my purposes.

The model looked quite pretty in light gray, but quickly it got a mottled appearance from all the corrective spot sanding. I also added the horizontal tail surfaces at this point, to minimise the exposure of these relatively delicate parts.