Photos
Photo by Theo van den Boomen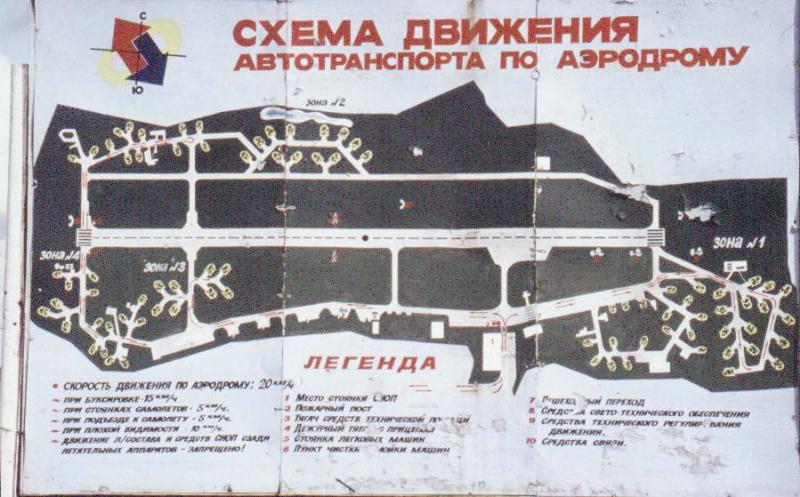 Andres Valdre kindly supplied the following translation:
Scheme of the traffic of automotive transport on the aerodrome

Speed of moving on the aerodrome: 20 kph
- at towing: 15 kph
- at a/c parking lots: 5 kph
- at closing to an a/c: 5 kph (the text is fuzzy here, I guess this is the right word; should possibly mean
the speed at which the vehicle approaches a standing plane before the hook/towline is connected)
- at limited vision: 10 kph (bad weather, that is!)
- traffic of personnel and equipment of 'SNOP'/'SNOL' (don't know what it means)
behind flying apparatuses - forbidden!

1. Parking lot of 'SNOP'/'SNOL'
2. Fire-fighting post
3. ... (fuzzy) equipment of technical ... (chipped)
4. Orderly of ... (chipped; could be 'heavy') trailers
5. Parking lot of light automobiles
6. Cleaning place of ... (chipped) automobiles
7. Pedestrian crossing point
8. Equipment of lightning-technical service (searchlights?)
9. Equipment of technical regulation of traffic (cranes and bulldozers??)
10. Equipment of communication

All over the scheme there are texts 'Zone No. ...' which mean different areas of the airfield.

The compass needle in the upper left corner has 'C' (S) for north (sever') and 'IO' (Yu) for south (yug).

Return to air shows page