Me 163 kits and accessories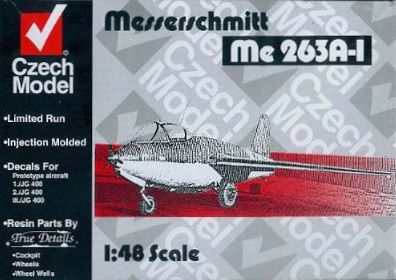 The Czech Model 1/48 Me 263 is a limited run injection molded kit. It has True Details resin parts for cockpit, wheel wells and wheels, a vacform canopy, and decals for prototype and (fictional) 1./JG400, 2./JG400, III/JG400. The following scans of the box contents and the painting instructions (possibly printed on the back of the box) were found on Ebay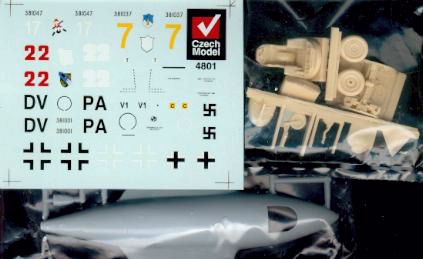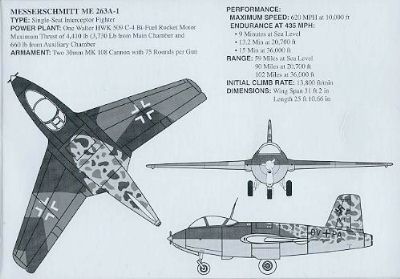 Ron Smith posted a brief report on the newsgroup rec.models.scale. He reports the model is not easy to build. Some notes:
buy a new tube of filler before starting this one, you're gonna need it!
the resin cockpit tub must be widened at the side consoles and heightened at the rear bulkhead to make it fit
the upper fuselage is 1/16" (1.5 mm) wider than the lower fuselage, and it is way too thick to flex fit it
the roots of the wings and vertical stabiliser, and the wing roots on the fuselage need to be filed flat, and then pins added to mount them
all the control surfaces need to be scribed deeper
the panel lines have a strange way of disappearing due to the low pressure molding process
the plastic has a strong surface texture (about 60 grit paper), so it's got to be sanded all over
the resin wheels look like wet saggy cheerios. The injected wheels need some sink marks filled but otherwise look OK
the advised amount of nose weight isn't sufficient to keep it on three wheels. I used 2.5 ounces (70 grams) and needed 3 ounces (85 grams) at least.
the decals are good
Frank Koval supplied to photo below of his Czech Model kit (courtesey of Jim Starkweather of the Armorama modeling site). Frank reported that he did the mottling with oil paints. He scrubbed the oil paint into an acrylic base-coat with a nearly dry brush. The result was that the oil mottles were somewhat transparent. Frank also reported that the kit really wasn't that difficult to build. The vac-form canopy was too big and needed cutting down. The one-piece resin cockpit/wheel-well assembly was misaligned, and he shifted the nose gear one millimeter. The main gear needed some fiddling to make the plane sit right. Any fit problems of the thick plastic parts were easily solved with a file. Frank entered this model at the 2002 IPMS USA Nationals, where it took 2nd place in the Small Jet category.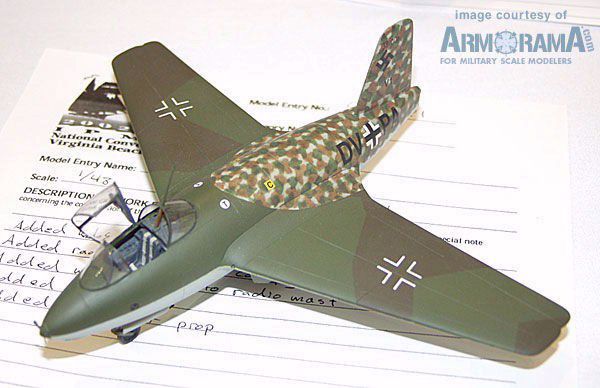 Jean-Philippe Fauvarque shows a very nice construction report of his CzechModel kit on his modelling site.
Return to Me 163 kits and accessories page