Me 163 kits and accessories
The Aires detail set for the Trimaster/Dragon/Revell 1/48 model contains 17 resin parts, photo-etch parts for the cockpit, and two pieces of copper wire. Possibly two box designs exist?
| | |
| --- | --- |
| Scan by Ludo Kloek | Picture found on Ebay |
The main resin piece is the cockpit tub combined with T-Stoff tank detail and the gun bays. Detailing is excellent as you can see, and the casting is near-perfect, with no bubbles at all. However, my sample showed one mold defect: near the throttle, a piece of rubber must have been torn out, since the resin part shows an ugly bump there.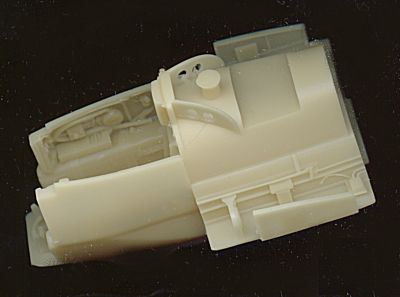 Overview of the other resin pieces, clockwise starting with the seat, gun bay doors, control stick, ammo hatch, full and empty ammo cannisters, instrument panel, MK 108 cannons, Revi gunsight and compass, and lastly four MK 108 gun barrels. Casting is again near-flawless, except for the full ammo cannister, where pieces of the rubber mold were torn off due to undercuts. This part will be very difficult to restore.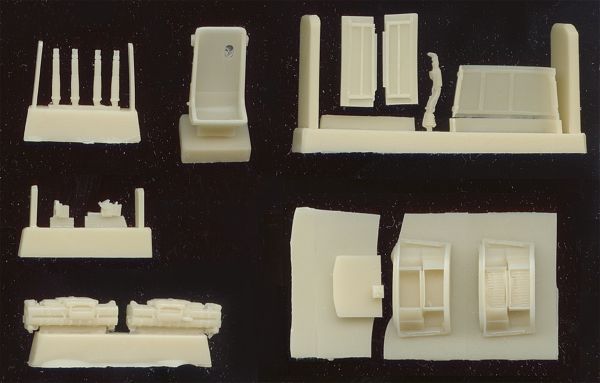 Lastly the photo etch fret and the film piece.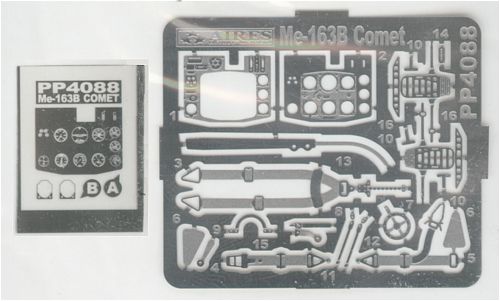 Return to Me 163 kits and accessories page