Me 163 kits and accessories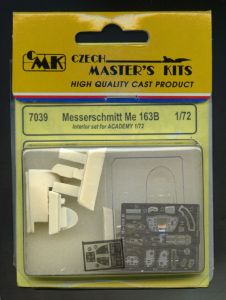 After the 2000 release by Academy of its excellent Komet kit, Czech Master's Kits quickly issued several detailing sets. This page describes set 7039, an interior detailing set for the Me 163B. The set contains 10 resin parts, a photo-etched sheet, an instrument film (not shown below) and a vacuum formed canopy (not shown either). The vacform canopy's quality is good, but not excellent. The detail parts are described below.
The cockpit tub looks very good to me. It shows a very good representation of the T-Stoff tanks, their straps, small hydraulic tank, electric switch box, and rear bulkhead detail. A p/e throttle on the throttle box would make it just a little nicer. The detailing of the fuel tank straps could be a little more prominent. The Eduard Zoom set contains the necessary details if you are not satisfied. The very fine wire running over the right-hand tank is something I haven't seen before. Perhaps it is best removed (consult cockpit photos).

The right cockpit wall part (on the left in the photo) shows detailing that is completely correct, as far as I can see. You have to add an oxygen hose leading from the circular part.

The instrument panel has no detail, because it is covered by p/e parts.

The left cockpit wall (on the right in the photo) contains the trim wheel and the metal box containing the trim mechanism. It's a pity that the trim wheel is not supplied as a p/e part. It does not very realistic this way. Also, the wheel should be positioned more forward on the box. I think only the old Eduard p/e sheet and the PART p/e set have a suitable trim wheel.

Starting on the left, a nice stick, that does not differ much from the Academy original. Next to it is the seat, which is much more delicate than the Academy part. It contains a cushion, something I am not certain off. I think the pilot sat on his chute. On the right are the pedals, showing detailing that is not confirmed by photos. Behind it is the head armour with headrest, replacing the slightly incorrectly shaped Academy headrest.
Concluding the resin parts, on the left a part that in installed ahead of the glass armour. It is extremely thin, and I think it will be nearly impossible to remove from the casting block. The last part is a Revi 16 gunsight.
The photo-etched parts contain instrument panels, seat belts, armour glass cover, armour glass supports, some cockpit details, and two pieces that go behind the rear view windows.
Concluding, scans of the instruction sheet.
Return to Me 163 kits and accessories page