Me 163 pilots: Herbert Frömert
In May 2003, I received an e-mail from Uwe Frömert, grandson of Herbert Frömert. Uwe is researching his grandfathers Luftwaffe career, which included Komet flying at the end of the war. But no Komet reference so far listed his name. I was happy to report him that the new Ransom/Cammann book does list the name Frömert, although with the first name misspelled as 'Heribert'. Uwe was kind enough to scan the last two pages of his grandfather's flight log, that show his Komet involvement, and an hitherto unknown photo of Komet White 11. For security reasons, Herbert Frömert didn't tell much to his family, even after the war. He was captured by British troops at the end of the war, and remained in captivity until August 1945. A small piece of Herbert Frömert's Luftwaffe career can be found on this extensive The Luftwaffe, 1933-45 site. It lists 'Hptm Froemert' as the commander of Verbindungskommando (S) 2 from 5.42 to 10.43(?). Uwe is very interested in hearing from anyone who can tell him more about his grandfather's career in the Luftwaffe.
According to the Ransom/Cammann book, Hptm Frömert was 'Einsatzoffizier (Ia)' with II./JG400. The flight log entries confim II. Gruppe. According to Uwe, an 'Einsatzoffizier' is responsible for the training of the pilots, mission and armaments planning, and liaison with weather services and with maintenance.
Flight logs
Uwe Frömert kindly provided scans of his grandfathers flight logs. Interestingly, two flight logs survived, one showing unpowered flights, and the 'standard' flight log that shows powered flights. The former provides an insight into Komet flight training never seen before. The latter also shows many interesting details. Firstly, it probably shows a typical Komet training program, with two (or three) starts with half-full tanks, and one with full tanks. Three 'operational' flights followed before the war ended. Secondly, it is clear that Hauptmann Frömert was with the II. Gruppe of JG400. After training at Brandis, he went to Stargard, and then took part in the many relocations of II./JG400, to Bad Zwischenahn, Nordholz and finally Husum. Thirdly, the log identifies four code colors used on Komets: white, yellow, red and green. Red and green codes are quite rare it seems, the only other source listing them is Ransom's book about Brandis.
Warning: 300K pictures, in order to preserve quality.
Segelflugbuch entries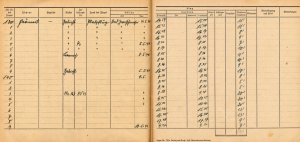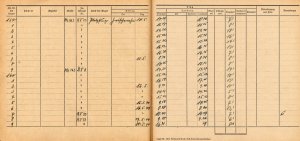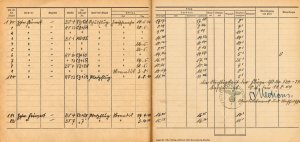 Flugbuch entries



The contents of the pages of the 'powered' flight log are shown in table format. This is mainly done because the old-German handwriting can be difficult to read. Two columns are left out for reasons of space, the second-but-last ("Kilometer 1. Führer") and first-but-last ("Kilometer 2. Führer"). These were probably meant for multi-pilot aircraft, and were not used by Herbert Frömert.
Lfd.
Nr. des
Fluges
Führer
Begleiter
Muster
Zu-
lassungs-
Nr.
Flug
Bemerkungen
Zweck des Fluges
Abflug
Landung
Flugdauer
Ort
Tag
Tageszeit
Ort
Tag
Tageszeit
203
Frömert
-
Bf 110
PE+SN
Schleppflug
Zwischenahn
24.5.
8.28
8.38
10'
4
"
"
"
" "
"
"
42
48
6'
5
"
Me163
AV10
CD+IO
Platzflug
"
27.5.
15.35
41
6'
S
6
"
Bf 110
PE+SN
" "
"
29.5.
8.52
58
6'
7
"
"
"
Schleppflug
"
"
9.00
30
30'
8
"
"
"
" "
"
"
34
45
11'
9
"
"
"
" "
"
"
47
57
10'
10
"
"
"
Platzflug
"
"
10.00
08
8'
11
"
"
"
Schleppflug
"
"
15
25
10'
12
"
Me163
AV10
CD+IO
Platzflug
Brandis
3.8.
19.28
41
13'
S
13
"
Bf110
GA+GG
" "
"
5.8.
16.09
23
14'
14
"
"
"
" "
"
"
25
32
7'



Lfd.
Nr. des
Fluges
Führer
Begleiter
Muster
Zu-
lassungs-
Nr.
Flug
Bemerkungen
Zweck des Fluges
Abflug
Landung
Flugdauer
Ort
Tag
Tageszeit
Ort
Tag
Tageszeit
330
Hptm Frömert
-
Me 163
"12"
Schulflug
Brandis
12.10.44
8.43
Brandis
12.10
8.56
13'
S=Halblast
31
" "
-
Bf.108
CI+HN
Überführung
Rechlin
16.10.44
15.32
"
16.10.
16.45
73'
32
" "
Ofw. Müller
"
"
Zielanflüge
Brandis
21.10.44
10.35
"
21.10.
11.15
40'
33
" "
-
Fi 156
CQ+HW
" "
"
3.11.44
14.25
"
3.11.
15.45
80'
34
" "
Fw. Eisinger
Me 110
DS+WI
Überführung
"
12.11.44
15.00
Udetfeld
12.11.
16.15
75'
35
" "
"
"
"
"
Udetfeld
13.11.44
10.05
Sprottau
13.11.
11.15
70'
36
" "
-
Me163
"5" weiß
Schulflug
Brandis
22.11.44
10.49
Brandis
22.11.
10.59
10'
S=Halblast
37
" "
-
"
"4" grün
Werkstattflug
"
"
11.46
"
"
11.56
10'
S= "
38
" "
-
"
"13" rot
Schulflug
"
24.11.44
15.19
"
24.11.
15.34
15'
S=Vollast
39
" "
-
Me109
"9" weiß
Werkstattflug
Eschwege
2.12.44
8.50
Eschwege
2.12.
9.10
20'
40
" "
-
"
"
Überführung
"
"
9.55
Brandis
"
10.30
35'



Lfd.
Nr. des
Fluges
Führer
Begleiter
Muster
Zu-
lassungs-
Nr.
Flug
Bemerkungen
Zweck des Fluges
Abflug
Landung
Flugdauer
Ort
Tag
Tageszeit
Ort
Tag
Tageszeit
341
Hptm Frömert
Me110
weiße "8"
Platzflug
Stargard
23.12
10.45
Stargard
23.12
11:35
50'
Tanken geflogen!
2
- " -
"
"
Schleppflug
"
25.12
11.35
"
25.12
12.15
40'
Me163 = rote "8"
343
- " -
Bf 108
"92"
Überführung
"
2.2.45
14.30
Altdamm
2.2.45
14.50
20'
4
- " -
Hptm. Helwig
Me110
D5+XZ
Überführung
Altdamm
4.2.
16.10
Neubrandenburg
4.2.
17.05
55'
5
- " -
Ltn. Opitz
Fi 156
F2+FZ
" "
Salzwedel
24.3.
18:00
Zwischenahn
24.3.
19:25
85'
6
- " -
- " -
"
"
" "
Zwischenahn
25.3.
18.20
Nordholz
25.3.
19.15
55'
7
- " -
Me163
"7"
Platzflug
Nordholz
6.4.
18.13
"
6.4.
18.24
11'
Werkstattflüg
8
- " -
Me110
D5+VZ
Schleppflug
" "
"
19.08
"
"
19:23
15'
Me163 - "10"
9
- " -
Me163
gelbe "10"
Werkstattflug
"
10.4.
17.48
"
10.4.
17.57
9'
halblast - S
350
- " -
Me163
gelbe "7"
Platzflug
Husum
27.4.
9.42
Husum
27.4.
9.56
14'
S