The Bristol Mercury engine of the Fokker G.I
References
It will be some time before I really have to worry about the engines of my model, but I've tried to find more information on the Bristol Mercury VIII's of the G.I. Hugo Hooftman's book does not have detail pictures of the engine, but fortunately I found a couple of very nice sources:
First was a very complex cutaway drawing of the Bristol Pegasus engine and some photos of both Mercury and Pegasus engines in an old Jane's All The World's Aircraft. The Pegasus is very similar to the Mercury, basically being a Mercury with increased stroke (the longer cylinders show this). Many details are similar, so it's a very useful source for details.

Second was a copy of 'British piston aero-engines and their aircraft' by Alec Lumsden. Although it incorrectly reports that the G.I had the Mercury VIIA fitted, it does have two close-up photographs of the Mercury VIII fitted in the Blenheim bomber. Engine details and fitting are very similar to the G.I installation. And once you know the details, they are visible in G.I pictures too. An example are the white/light grey baffles (airflow director shields) between the cylinders. Once seen in the Blenheim, they can be distinguished in many frontal G.I photographs, and also in the picture of a burnt-out G.I. One major difference between the Blenheim and G.I engines are the vertical pipes alongside the reduction gear; the G.I does not have them.

I received some 1940's/1950's Dutch engine books from Professor Beukers, and to my surprise they contained many drawings and pictures of Mercury and Pegasus. Their titles are 'Motoren voor de voortstuwing van vliegtuigen' by H.A. Jansen and C.W. Schönfeld and 'Vliegtuigmotoren - leerboek voor vliegtuigwerktuigkundigen' by B. Kampschuur.

The faculty's library yielded more books with pictures and information, such as 'Aircraft engines Part 2' by Judge. This book mentioned that all Mercury and Pegasus engines were fitted with Claudel Hobson carburetors. The baffles are also mentioned, being of aluminium construction, with leather seals against the engine cowl.
Photos
Fellow G1 builder Sander van Kreijl provided this photo of the built-up resin engine as supplied with the 'upgraded' version of the MPM kit. It consists of a crankcase with individual cilinders. Not included are the prominent valve pushrods (running in black oval cross section housings) and the white baffles between the cilinders.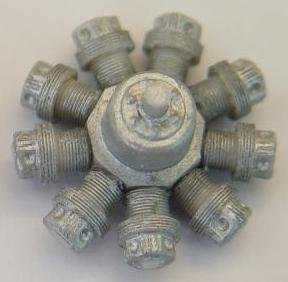 One could also take a ToRo Models (Poland) 1/48 resin Mercury (catalog number 48001) for inspiration.
Links
Return to MPM Fokker G.I page