MPM 1/72 XF-85 Goblin 'Upgraded'
In-the-box kit review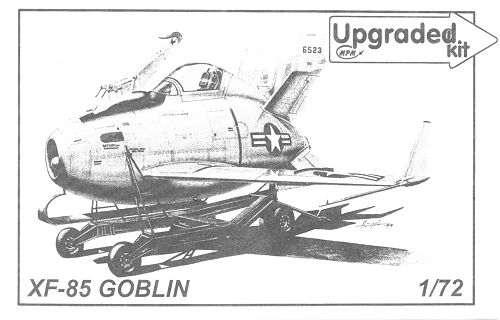 Late 2001 I bought the 'Upgraded' version of MPM's 1/72 XF-85 Goblin kit (catalog number 72134). I already had the original issue (from 1995 or 1996, catalog number 72042), but I bought the 'Upgraded' version for the new resin parts.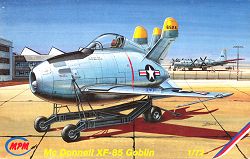 The model
As with all of MPM's 'Upgraded' versions, the kit comes in a simplified black and white version of the full-color original box as shown on the right. The plastic parts are completely identical. I expected to find some mold wear, but the newer issue has less flash then my original one. Instead, the new version shows shrinkage dents in the dolly beams, that my original one does not have. The vacform canopy is the same, still with a small molding pip in the middle. Decals and photo etch are identical too, except that the photo-etch is coated now with nickel (I think), as all current Eduard photo-etch. The instructions have an inlay showing the new resin parts and their assembly and painting. The instructions still have the original catalog number on them.
The resin parts
That leaves the resin parts as the only new parts of this kit. They consist of a cockpit tub, a seat, a stick and a center instrument console. They are cast almost perfectly, except for the instrument console, of which several instruments were marred by a worn-out mould (as can be seen in the photo).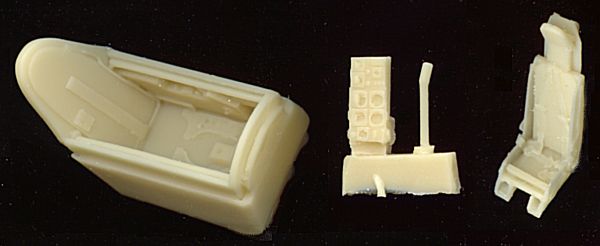 I compared these components with the cockpit photos in the 12 page paperback 'XF-85 Goblin - a detailed photo essay' by Steve Muth (Peregrine Publishing, April 2000, ISBN 1930432011). My findings:
the details of the resin tub show very little resemblance to the photos. The items located on the cockpit sides are just not like what's visible in the photos. The quilted padding of the real thing is missing too.

the seat only vaguely resembles the real one. It lacks the arm rests, and the head rest looks rather different

the resin stick is no more than a straight pipe with a grip, whereas the real thing appears to be highly curved with a half-way pivot

the instrument console appears to be a correct representation of the real thing. But why didn't they include the instruments besides the console, below the windshield sides?
Overall, the resin parts are not very realistic at all, and I find the 'upgraded' kit a bad purchase. I would advise anyone who already has the original issue to buy Steve Muth's booklet instead of this kit. On the positive side, the resin parts will create a nice busy cockpit, and that could be enough too for many modelers.
Other models
In 1/72 scale, several other models were issued:
Airmodel: a vacform model with catalog number 270

Vacuform Models: this brand's only model was an XF-85, possibly the Airmodel kit

12 Squared: a short-run injection moulding (photo)

'Czechmaster': a resin kit. Fuselage, wings and most of the tailplanes are cast as one piece. A large chunk of the upper center fuselage is a separate part to allow cockpit detailing. Czechmaster is used here as a generic name for all brandless Czech resin kits produced between say 1985 and 1992 or so

Eurokit: this company from France issued a resin model, that looks identical to the Czechmaster kit

U-Models: a resin kit from Japan. Light tan resin, vacform canopy and a nice instruction booklet
| | | | |
| --- | --- | --- | --- |
| | | | |
| Airmodel | 12 Squared | Eurokit | U-Models |
Links
Some links to reviews and construction articles:
Return to scale models page