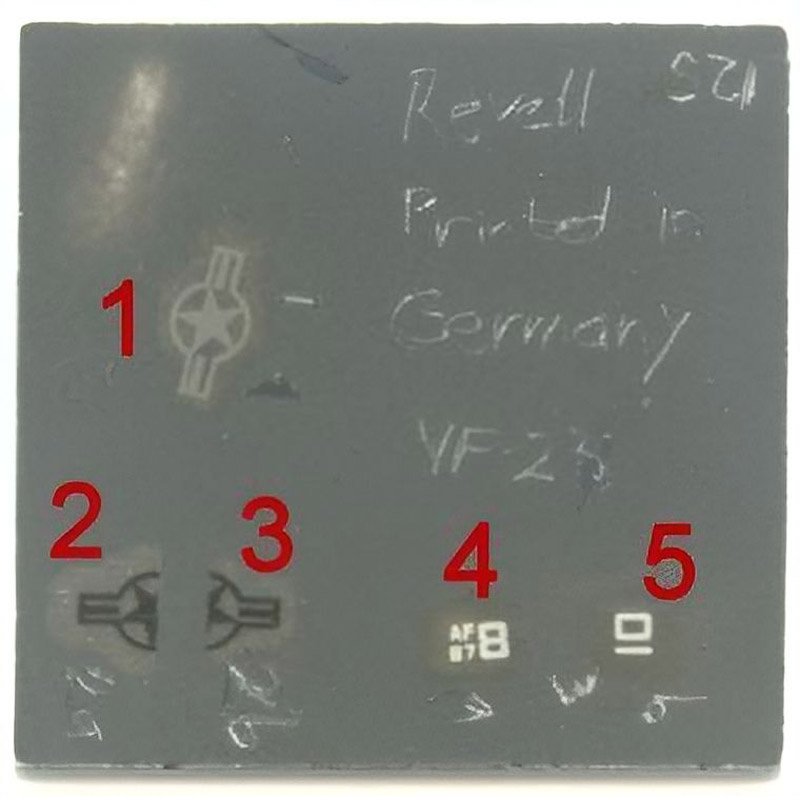 I modelled the first prototype, which was painted in FS 36118 overall. I did not use a scale color for this model, and I'm happy with that choice.

The decal sheet provides only two decals for the serial number, whereas the real one has four (on all sides of the tails). I was 'fortunate' enough to have a misprinted decal sheet (most white decals were double-printed with a small shift), so I ordered a new sheet through Revell's excellent replacement parts service. This gave me four usable serial number decals. But I now had two rather different sheets: the original sheet was printed in Germany, on a white background, and the replacement sheet was printed in Italy, with a light blue background. The German decals were printed rather 'fat', while the Italian decals were printed very thin.

I always perform tests on the decals before I apply them to the model. And it was a very good thing that I did this, because the decals were very difficult to apply. They silvered incredibly even on the smoothest surfaces. It is difficult to capture in scanning, but the test sample shown here shows the experimenting. Decal 1 was applied on a polished area, using Super Set and Sol. Initially it looked perfect, but it started to silver after five minutes, and finally the whole decal had silvered (difficult to see, but believe me). Decal 2 was applied with Set only, decal 3 using no 'juices' at all. They both silvered like decal 1. Decal 4 was applied with a small drop of Future underneath the decal, but the decal still silvered partially. Decal 5 was soaked, the decal glue was rubbed off, and then it was applied with Future underneath. This decal did not silver at all, and finally I had a way to apply the decals. After a coat of semi-gloss clear (Humbrol 135) they are nearly perfect.