Me 163 kits and accessories
| | |
| --- | --- |
| 5504 (1992) | 5551 (2007) |
All model part scans on this page were kindly provided by Frank Henriquez
The Dragon/DML Me 163B is a reissue of the Trimaster kit, after the latter went broke within a few years of its inception. The model was slightly simplified by the replacement of the white metal components with injection moulded ones, and was less expensive. After Dragon stopped producing it, Hasegawa issued it briefly, and then it went to Revell-Germany, but it returned to Dragon in 2007. Or more likely, Dragon supplied sprues of the kit to Hasegawa and Revell-Germany for a few years.
The detail parts
Dragon/DML slightly simplified the photo-etched parts of the original Trimaster model. The 'ceiling' of the skid bay and the sheet metal between the rear view windows were changed to injected parts. The material used for the photo-etched parts is some sort of stainless steel, which is very difficult to bend, and it will break when bent twice. Tempering the material in a flame is said to make it easier to process, making it more brass-like.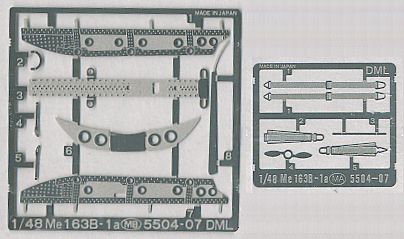 Shown below is the extra sprue containing the former white metal parts (seat, dolly axle, tail wheel strut) plus some former photo-etched parts (the 'ceiling' of the skid bay).

Decals
The Dragon decal sheet has options for two aircraft, the mottled 'White 14' and the Canadian museum example 191916 'Yellow 26'. No extra decals are offered as on the Trimaster sheet.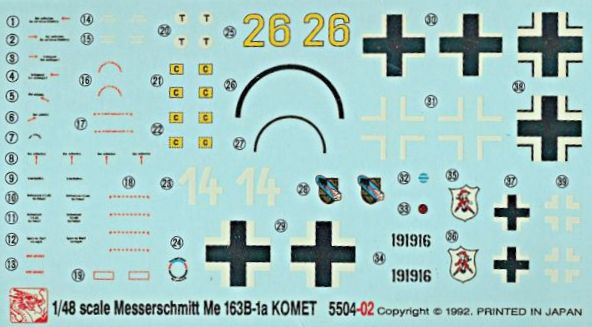 Finished models
Concluding this report on the Dragon/DML Komet, links to:
See also the pages about the original Trimaster issue, the Hasegawa reissue and the Revell-Germany reissue.
Return to Me 163 kits and accessories page