Me 163 kits and accessories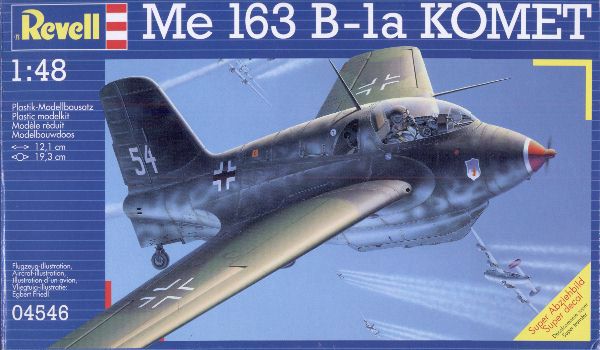 At the end of the nineties the prices paid for the original Trimaster Komet kit and the Dragon reissue, both out of production, were becoming high. It therefore came as a relief that Revell Germany bought or leased the moulds from Dragon and released its kit in 1999, for a modest price. The last remaining photo-etched parts were replaced with injection moulded parts. Still it is an excellent little kit. The only problems that this kit seems to have, are the fit of the nose cone, and the difficult assembly of the skid and skid arms. Although I haven't built the kit myself, I think the trailing edge of the wing root fairing is too thick. It should be thinned, thereby making the fairing more concave.
Review
The following construction remarks were taken from a kit review by Richard Oud, published in PIM magazine of IPMS-The Netherlands. Richard reported finely engraved panel lines, a nicely detailled cockpit. According to his sources, some instruments are missing or placed wrongly. He added two instruments to the instrument panel. Some flash was apparant, and it was difficult to remove on some parts, notably the tail landing gear and the skid arms. The fit of the skid arms into the skid bay was very problematic. The instructions portray it as a simple action, but he could not manage it. He removed the thin flash between the wing and the elevon, to make it stand clear as it does on the real aircraft. The attachment points of the leading edge slot were of different heights, and would have resulted in a wavy slot. He sanded them to height carefully before gluing the part in place. The connection between the wings and the fuselage also took considerable attention to prevent gaps. Richard notes that the twist should not be taken out of the wing, the parts are not warped. The rear fuselage does not connect flawlessly with the front fuselage. He had to putty, sand and rescribe in that area.
Decals
The Revell decal sheet has options for two aircraft: the well-known but falsely identified 'White 54', and 'White 18'. The former is very problematic due the it being 'White 42' fitted with the tail of 'White 54'. Painting instuctions are shown below.
Revell Komet models
Concluding this report, links to various Revell Komets:
See also the pages about the original Trimaster issue, the Hasegawa reissue and the Dragon reissue.
Return to Me 163 kits and accessories page