Me 163 kits and accessories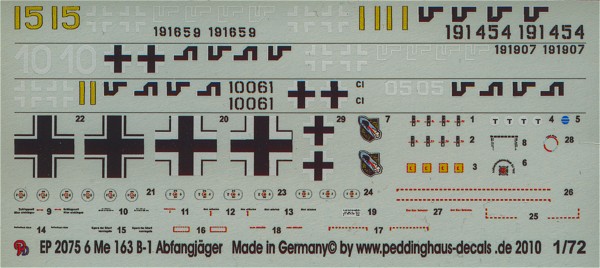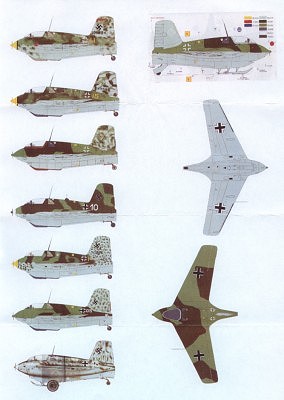 The sheet covers the following six aircraft:
White 10
10061/Yellow 1
White 18 is shown but not included on the decal sheet
Each of the aircraft-specific parts of the decal sheet contains fuselage crosses, swastikas (in two halves because of German legislation), Werknummer if applicable and white or yellow number if applicable. The fonts used for the WNr look authentic, which is a first in this scale. The instructions' side views can be found in full size in the Japanese 'Famous Airplanes of the World #123: Me 163' by Bunrindo. The unspecified three-view drawing from FAOW-123 agrees closely to a drawing found in 'The Official Monogram Painting Guide to German Aircraft 1935-1945', depicting the 'Australian' Komet 191907 before it was repainted.
The generic part of the decal sheet contains an amazing 59 stencils plus six national markings (four wing and two fuselage crosses) and two 2./JG400 badges. I found one small but sweet mistake: Peddinghaus replicated the stencils visible in this photo of 191659/Yellow 15 as a white rectangle with black stencils. In reality there was no white area, on the museum aircraft they repainted the belly around these stencils, which made it look like a white rectangle. The yellow C-Stoff squares are outlined in red, which is not correct I think, but the outlines can be cut off. All the decals for the inspection hatches have a silver outline; I'm not sure whether that will look good on the model. The instruction sheet has one side completely filled with instructions for the 59 stencils in a four-view drawing.
The decals are Alps printed. If you are not familiar with them, this may scare you off, but the print quality is very nice, sharper than many screen-printed decals. There is a little dithering visible in the yellow parts. Possibly the white parts are not totally opaque, but that may help to tone down the white a bit. The decals are printed on a continuous film, so you will have to cut them out individually.
Return to Me 163 kits and accessories page