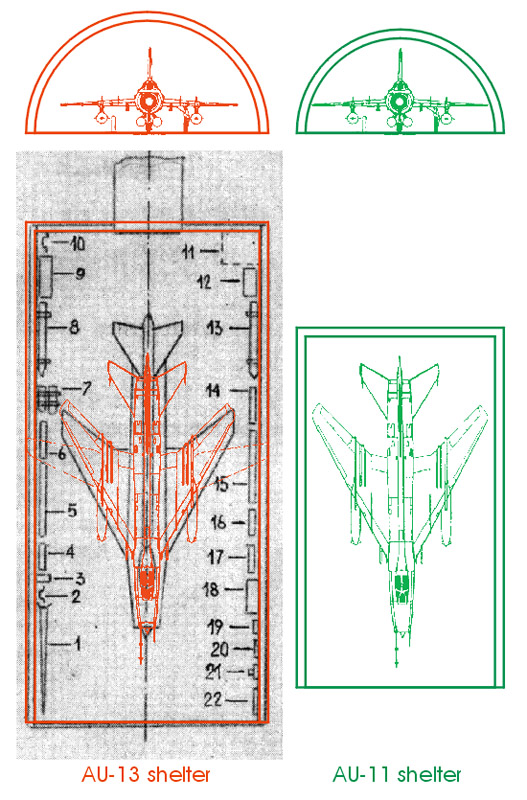 Templin had forty AU-13 (also: '2A/13') shelters, with AU short for А́рочное укры́тие, Arocnye Ukrytija, arched shelter. Although the shelter layout drawing is more of a sketch, I wanted to check whether it resembles an AU-13. It has a floor area of 12.8 by 28 meters, and when I scaled the drawing to that size, a similarly scaled Su-17 drawing agreed with the span of the misshapen aircraft in the original drawing.

I remember the shelters at Allstedt, another Su-17 base, that had rails installed on the floor, to guide the main wheels and avoid wing tip contact. The book 'Rote Plätze' reports that Allstedt had forty AU-11 (also: '2/11') shelters, that have a floor area of 10.8 by 20 meters, designed to house a MiG-21 and Su-7. Just maybe, a Su-17 with 10.04 meters span could be shoe-horned in? I drew that in green, and theoretically it seems possible.

The Su-17s were gone when we 'inspected' the base, so I do not know whether they really parked them in the AU-11 shelters. But I do remember it looked like they had been used until recently. I also remember a winch cable, completely rolled out. I wonder now whether a winch was standard equipment in a Soviet shelter? It's not shown in the Templin sketch.