Airmodel 1/72 XF-85 Goblin vacform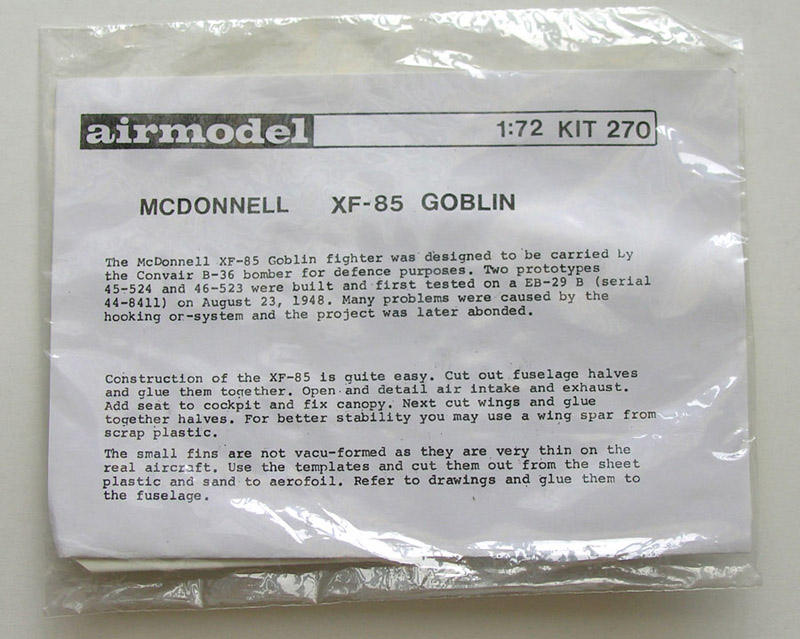 Around 1991 I bought my first vacform, an Airmodel 1/72 XF-85 Goblin. The combination of the low quality of the kit and my very limited skills resulted in a model that was never finished. But I also realised that I have never seen a built-up kit, so I'm probably not alone in failing to build this kit.
Kit description
| | |
| --- | --- |
| This and the opening photo were found on the internet - I lost my bag, instructions and the remains of the vacform sheet. You get two fuselage halves and four wing parts, plus a canopy. The parts show the typical Airmodel panel lines - wide and deep. All have a lot of moulding pips, and that tells us the kit was female moulded. | |
Construction
| | |
| --- | --- |
| I think all Airmodel kits are 'blessed' with the same wide and deep panel lines. People used to complain about Matchbox, but this was another level. I used Faller plastic glue (with a needle point) to fill them, a pretty bad choice of material, but I did not know better. | |
| | |
| --- | --- |
| | From my *very* limited references, way before the internet, I concluded that the fuselage sides of the model were too rounded. I glued strips of plastic card on the inside so I could sand the outside flatter. Work was also started on an inlet duct, I probaly used two bombs halves for that. |
| | |
| --- | --- |
| The strips glued on the inside made the fuselage halves curve away from each other, and it required quite a bit of force to make them touch along the length, for this photo. | |
| | |
| --- | --- |
| | The wings were maybe not too bad, but I concluded the sweep angle was wrong. On the left-hand wing (right in the photo) you can see a small wedge added at the root. Plus more Faller glue in the panel lines. |
| | |
| --- | --- |
| I never cut out the canopy, so you can see the original quality. There's no trace of the windscreen, it's just a bulbous shape. On the positive side, it hasn't yellowed badly as many other canopies do. | |
The end
In 1996, five years later, I bought both the 12 Squared and the MPM kits of the XF-85, and that sealed the fate of this miserable project. I wrote a short review of MPM's 'Upgraded' version, but so far I haven't built either kit.
Return to models page